Welcome to Coventry Welding Workshop.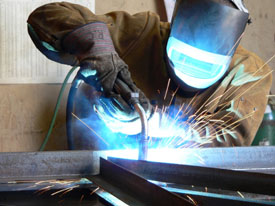 In addition to intensive training for professional welders, we also offer introductory training for people with no prior experience who want to master basic welding techniques, perhaps for DIY projects or similar.
Based at the heart of the industrial Midlands in Coventry, within two miles of Junction 3 of the M6, we are within easy reach of Birmingham, Nottingham, Leicester and Sheffield.
Without doubt, your customers place great emphasis on quality assurance, but quality training for your welders also makes sound business sense for you.
Professionally trained and certificated welders reduce the need for rework, with its associated costs, whilst improving repeatability, quality and productivity. European standards reinforce the importance of welding competence, placing stringent controls on the industry for the protection of users. As a result, an increasing number of companies are seeking to improve their welders' capabilities through practical training and demonstrate their competence by testing and certification.
Coventry Welding Workshop takes pride in providing the best available welder assessment and training. As an Engineering and Marine Training Authority (EMTA) Approved Centre for the registration and assessment of Non Vocational basic welding skills for novices to advanced skills and certification in all the major welding processes to British, European, American and International coded standards (ie MIG/MAG; TIG; MMAat BS4872, BS EN 287 or ASMEIX; other standards are available on request).
Training takes place at our dedicated training facility in Coventry, where each delegate is allocated his/her own work bay, fully equipped with the latest welding equipment.
We view our relationship with you as a long term partnership, working closely with you so that we can understand your business needs and tailor our training to meet your objectives. As a relatively small, privately owned company we can offer a personal, caring service whilst having sufficient resources to respond rapidly to the changing demands and needs of clients of all sizes.





---